With the advancement of modern timberstructure construction technology in China and the development of the timberbuilding codes, the opportunities for developing the market are exploringfurther with each case. Studies have shown that timber structure is 8~16% lessenergy consumption than concrete; each cubic meter of wood will store 0.9 tonsand bamboo 1.6 tons of equivalent carbon dioxide and at the same time itcan reduce 1.1 tons of carbon emissions during its manufacturing stage. The Party and the state attach great importance to the development of timberstructure in the construction industry. CPC Central Committee and State Councilproposed several opinions on further strengthening the management of urbanplanning and construction (ZF[2016]No.6) which was pointed out that developingnew construction methods and promoting steel structure buildings steadily, andadvocating the development of modern timber buildings, where conditions permit.The Ministry of Industry and Information Technology of People's Republic ofChina pointed out that the application of timber architecture in the urban areais being promoted, and it also promote to adopt timber structure for newlow-rise public buildings , such as government-invested schools, nurseries,homes for the elderly, garden landscapes , as well as in the project of urbanapartment renovation. It mainly promotes to build multi-story timber-steel,timber-concrete hybrid structure buildings , and promotes timber structuresbuildings in wood featured areas and tourist resorts. (Source: Mu Architecture,2020)
随着我国现代竹木结构建筑技术的进步和木结构建筑规范的发展,每一个案例都在进一步探索市场的发展机遇。研究表明,竹木结构比混凝土结构节能8~16%;每立方米木材可储存相当于0.9吨的二氧化碳,每立方米竹子可储存相当于1.6吨的二氧化碳,同时在制造阶段可减少1.1吨的碳排放。党和国家高度重视竹木结构在建筑业的发展。中共中央、国务院《关于进一步加强城市规划建设管理的若干意见》(〔2016〕6号)指出,发展新型施工方式,稳步推进钢结构建筑,在条件允许的地方倡导发展现代竹木结构建筑。中华人民共和国工业和信息化部指出,城市地区的竹木材的应用架构被提升,同时也促进新的低层采用竹木结构的公共建筑,如政府投资学校、托儿所、老人院、园林景观、以及在城市公寓改造项目中。主要推动建造多层木钢、木混结构建筑,在木结构特色地区和旅游度假区推广竹木结构建筑。(来源 竹木建筑, 2020)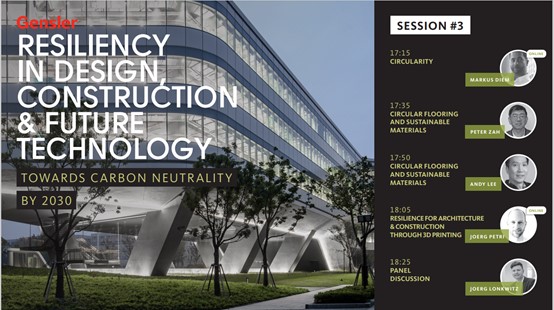 Eric C. Rupert, CEO of altPlus has beeninvited to the Conference – RESILIENCY IN DESIGN, CONSTRUCTION & FUTURETECHNOLOGY TOWARDS CARBON NEUTRALITY BY 2030. In the second session of thepart, Eric will deliver a presentation to introduce the MASS TIMBERCONSTRUCTION IN CHINA.
Eric C. Rupert, 澳莆CEO将被邀请参加由Gensler举办的-设计、建筑和未来技术的发展,以实现2030年碳中性的讨论会议。在会议的第二阶段,Eric将做一个介绍中国市场竹木结构应用的报告。
On Octobe 1, 2017, the Chinese governmentofficially promulgated and implemented the Multi-High-Rise Wood ConstructionTechnology Standard GB/T51226-2017 and in the same year GB 50005-2017 Standardfor Design of Timber Structures. According to the standard(s) timber buildingsbetween 1-3 level are referred to in the GB50005 and 4 to 6 level is defined multiplestory wood building, 7-9 level is called mid-high rise wood building, eachreferring to GB/T51226-2017.
2017年10月1日,中国政府正式颁布实施了多高层木结构建筑技术标准GB/T51226-2017,同年又颁布实施了《木结构设计标准》GB 50005-2017。根据标准(s) 1-3级之间的木结构建筑是指GB50005中定义的多层木结构建筑,4至6级之间的称为中高层木结构建筑,7至9级之间的称为中高层木结构建筑,各参照GB/T51226-2017。
We're continuing to help mass timber (structural engineered bamboo) construction in China grow! The structural engineered bamboo design,production and logistic is a complex operation coordinated by our engineeringteam in Shanghai, China to support our team nationally and our partners withinternational projects.
我们将继续帮助中国的大规模木材(结构工程竹)建设发展!工程竹结构工程的设计、生产和物流是一个复杂的操作,由我们在上海的工程团队协调,以支持我们的国内团队和国际合作伙伴的项目。
Our structuralengineered bamboo team will be happy to assist with your project, pleasecontact us by email: engineering@altplusgroup.com
我们的竹结构工程团队将乐意为您的项目提供帮助,请通过电子邮件联系我们: engineering@altplusgroup.com